Jack Brereton MP visits Mantec to discuss leading role in Carbon Neutral Products
Jack Brereton MP made a recent visit to local ceramics firm, Mantec Technical Ceramics, who are leading the way in Carbon Neutral Product. During his visit, Jack met with Sales Director, Mark Berrisford, and his team to hear more about the work Mantec Technical Ceramics is doing to increase the energy efficiency of the ceramics industry.
Longton based manufacturer Mantec Technical Ceramics has taken great strides forward in terms of environmental impact, with the announcement that three of its energy saving ranges have now been officially classified as Carbon Neutral Products, as certified by the leading international validation body, ClimatePartner.
The refractory products involved are Ultralite free-flowing loose fill media – non-hazardous, inert, thermally efficient insulation materials most commonly used in large kilns such as those operated by ceramic and brick producers. Ultralite is produced at Mantec's HQ facility in Stoke-on-Trent using a special, proprietary process.
Sales director Mark Berrisford said:
We have been working closely with ClimatePartner for quite some time and I'm proud to announce that Ultralite ULF 10, 12 and 14 are now classified as Carbon Neutral Products. We are passionate about reducing our global footprint and this initiative, achieved by comprehensive emissions analysis and then offsetting, is just the first step towards the ultimate goal of Net Zero. To the best of my knowledge, we are the first UK precision ceramics/refractories manufacturer to attain Carbon Neutral certification.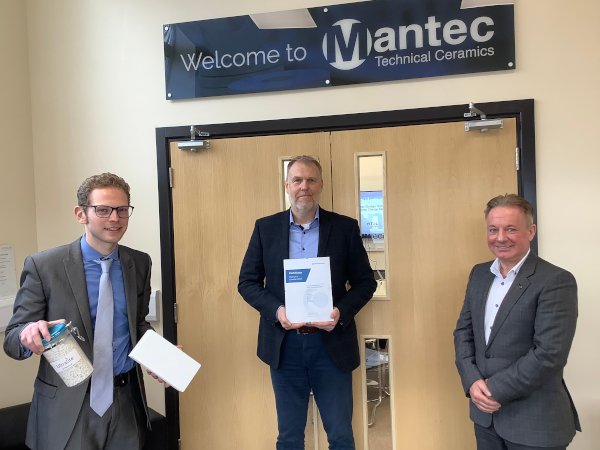 Jack Brereton MP (left), Andy Clark – Mantec CEO (centre), Mark Berrisford – Mantec Sales Director (right)
ClimatePartner operates with a multi-national team and explains that carbon neutrality means that the carbon footprint of a company, product, or service has been calculated on the basis of internationally recognised standards and fully offset by supporting global climate action projects.
Each carbon offset – such as that now established by Mantec – has its own unique ID number. This, together with associated web links, will now feature on Ultralite packaging, meaning users can read about CO2 emissions associated with the products, the reduction initiatives in place and the carbon offset projects supported. In Mantec's case this involves investment in an exciting afforestation programme in Rio Kama in eastern Nicaragua. Already, a million plants of a native species of giant clumping bamboo have been planted.
Mantec is also a founder member of Midlands Industrial Ceramics Group (MICG), established to ensure that advanced ceramics help drive the competitiveness and success of Midlands advanced manufacturing by tackling key innovation challenges. With increasing energy costs investing in new more energy efficient technology has never been more pressing for industries like ceramics.
Following the visit Jack Brereton MP said:
I would like to say a huge thank you to Mark Berrisford and his team at Mantec Technical Ceramics Limited for the work they are doing, their more insulating kiln products will save around 30% of energy costs for ceramic businesses. It was very interesting to hear from them and this more efficient technology will no doubt play a huge role in helping our local industries to save energy and protect jobs.