See us at ClayTech UK 2023
ClayTech UK will celebrate its 20th edition when it takes place on 23 November at Newark Showground, Notts, England – and Mantec will once again be there alongside all the other leading international suppliers to the heavy clay sector. We will exhibit on Stand 36, so please make a date in your diary, and come and see us!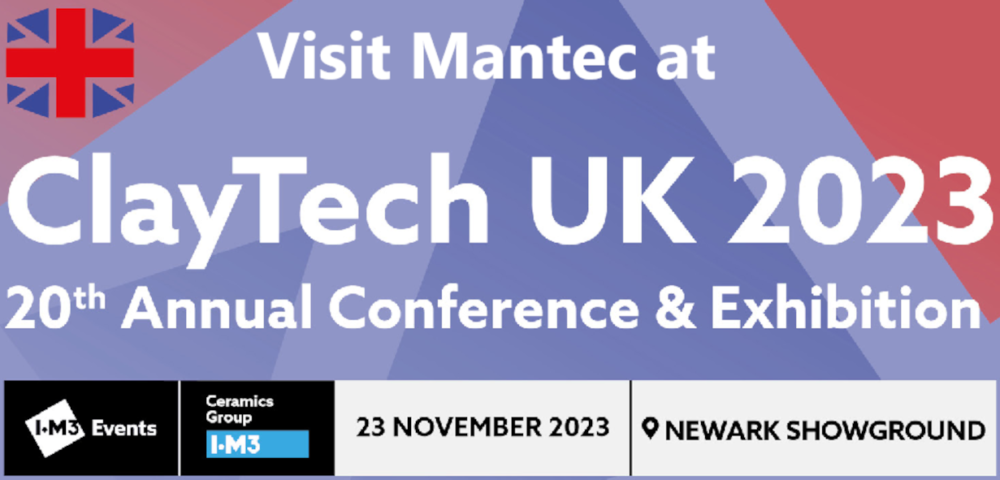 The event will include a professional development programme, structured around core themes from the Level 2 and Level 3 Certificate in Clay Technology, aimed at delivering learning opportunities for both current students and for delegates looking to enhance their awareness and personal professional development.
The programme will also include Supplier Showcase sessions. Delivered by organisations supplying products and services to the heavy clay sector, these sessions will highlight new technology and product developments.
Addressing environmental challenges is bound to be a key topic area. Just last month, the Brick Development Association reminded us that "the UK's leading brickmakers recognize the challenges posed by carbon emissions and climate change. Members of the BDA are committed to a programme of genuine sustainability and a drive towards net zero targets. For example, Forterra PLC has invested £95m in a new super plant at its Desford site in Leicestershire, which will be capable of producing 180m bricks per year and will significantly reduce the carbon impact of each brick manufactured on the site compared to its previous factory. Similarly, leading brickmaker Ibstock aims to create the world's first Net Zero brick factory for Scope 1 and 2 emissions".
Mantec, of course, has been developing appropriate technologies for these important industry initiatives and is supporting manufacturers in their drive towards net zero. In particular, the Ultralite family of lightweight refractory products for use in brick kilns is lending a massive helping hand in terms of reducing energy consumption, while being clean, safe and easy to handle, and offering a long service life (read more here).
A further contribution to the broader net zero effort this year has been the introduction by Mantec of carbon neutral versions of Ultralite ULF – free-flowing, loose-fill media that are non-hazardous, inert, thermally efficient insulation materials, most commonly used in cars in the tunnel kilns favoured by the brick industry. The highest grade of ULF is stable at high temperatures (up to 1450°C), and all ULF products do not degrade in use, therefore meaning that they can be reused time and again, for instance after kiln car repairs and maintenance have taken place. Ultralite can bring energy savings of up to 40% in kiln car bases alone.
When it does reach the end of its useful life – and, impressively, this can be as long as 10 years in certain circumstances – because Ultralite is not classified as a hazardous waste, it can be safely disposed of to landfill.
ClayTech UK is organised by the Institute of Materials, Minerals & Mining – more details on the event here: https://www.iom3.org/events-awards/claytech-uk-2023.html