JOSCAR Accreditation
Mantec is delighted to have satisfied all the requirements to become fully registered on the JOSCAR supplier accreditation system.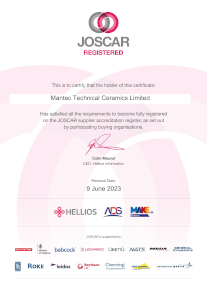 JOSCAR (the Joint Supply Chain Accreditation Register) is a collaborative tool used by a growing number of prime contractors in the aerospace, defence and security industry to act as a single repository for pre-qualification and compliance information.
The JOSCAR Registration Mark is valued by some of the largest purchasers in the defence community and indicates that our organisation has gone through the process required to demonstrate its commitment and credentials to the industry.
JOSCAR provides an essential database both during pre-qualification and throughout the life cycle of the supplier relationship.  Managed by Hellios, a third-party organisation, JOSCAR helps prime contractors demonstrate their suppliers are 'fit for business'. Centralising the data allows the information to be accessed by all participating buying organisations.