Ultralite Insulating Firebricks (UIFB)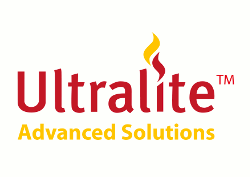 In response to increasing market demands for ultra-lightweight and highly insulating refractory products – and following extensive research and development – Mantec Refractories has unveiled its Ultralite Insulating Firebricks (UIFB) as the latest addition to the Ultralite family of insulation products. 
Manufactured using a combination of Mantec's advanced microporous refractory technology and its unique patent pending engineering expertise, Ultralite insulating firebricks are now probably the LIGHTEST FIREBRICKS, for their classification, in the world today and have been specifically engineered to deliver even greater energy savings for customers compared to other leading comparable products.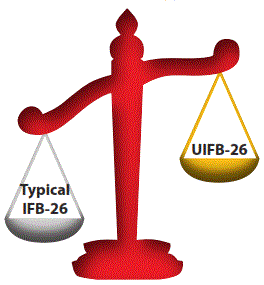 Not only are Ultralite Insulating Firebricks almost HALF THE WEIGHT and HALF THE DENSITY of comparable products on the market – confirmed by recent independent testing – but they also offer superior thermal insulation and mechanical properties. 
Mantec offers a standard insulating firebrick UIFB-26 as well as an alternative higher strength version UIFB-26HS, both of which meet the requirements of ASTM C155 for group 26 applications requiring a temperature rating of 1400°C / 2552°F.
Both strength variants of Ultralite Insulating Firebricks – UIFB-26 (standard) & UIFB-26HS (high strength) are available in 2 standard sizes:
230mm x 114mm x 64mm / 9" x 4 ½" x 2½"
230mm x 114mm x 76mm / 9" x 4 ½" x 3"
According to customers' requirements, Mantec can manufacture other sizes and special shapes to order as part of our bespoke engineering service.
How do Mantec's Ultralite Insulating Firebricks Compare?
The lower thermal conductivity, lower density, lower heat storage and lower heat loss properties of Ultralite Insulating Firebricks will allow customers to benefit from additional reduction in energy usage and thus improved manufacturing efficiencies.
Applications for Ultralite Insulating Firebricks:
The main application for Ultralite Insulating Firebricks is as a primary hot face refractory lining in kilns and furnaces or in other areas requiring high temperature insulation. They can also be used as secondary back-up insulation behind other hot face linings.
The main industrial sectors where Ultralite Insulating Firebricks would make an impact are in traditional ceramic sectors such as sanitaryware, tableware, kilns & furnaces, technical & advanced ceramics as well as in refractories, iron & steel, petrochemical, aluminium and glass production
What are the advantages of Ultralite Insulating Firebricks?
Probably the lightest insulating firebrick on the market today within its classification
Almost half the weight and half the density of other industry standard Group 26 insulating firebricks
Lower thermal mass – considerable overall weight savings possible inside a kiln or furnace.
Lower thermal conductivity, lower heat storage – superior all-round thermal performance
Higher strength
High Mullite composition – stable against chemical attack, suitable resistance in reducing atmospheres
Thinner wall constructions are possible for the same energy efficiency of other products
Patent pending technology
Ease of handling due to their lightness